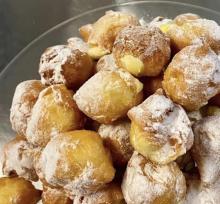 It's Carnival time again.
Once upon a time, before Lent began, it was customary to indulge in sweets and treats of all kinds, and it still is.
Sandra Bianchi has a face as sweet as the delicacies she has been offering every day since 1997 in her pastry shop in Borgo Giannotti, and an innovative and contemporary vision in the world of sweets, where she always introduces new proposals with singular peculiarities, but to be shared with everyone, otherwise, what's the taste?