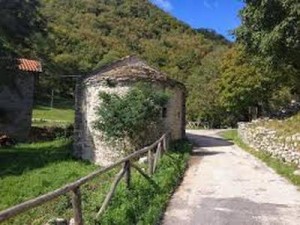 At an altitude of 871 meters above sea level, in a sunny position on a range of sweet and wide terraces, St. Luigi consists of small isolated houses with few rooms arranged on two levels, within which the shepherds and the animals spent their summer mother separated from villages placed at lower altitudes.
The old trail that came to "Alpe", ie the settlement of St. Luigi (869 m) a place of pasture with shady beech and chestnut trees and typical houses of shepherds where the inhabitants of the valley went up for the rural labor summer, and today still kept in use by some families that produce cheese, sausages and flour of chestnuts.
From here one can reach the top of Mount Palodina (1171 m), on the watershed that separates the valleys of Turrite Cava and  Gallicano, which offers views of the countries on the other side of Verni, Trassilico, Vergemoli and the highest peaks Apuan Central and spectacular views over the sorroundings valleys.
The alp of St. Luigi can be reached from Vallico di Sopra, through the old mule trail CAI 111