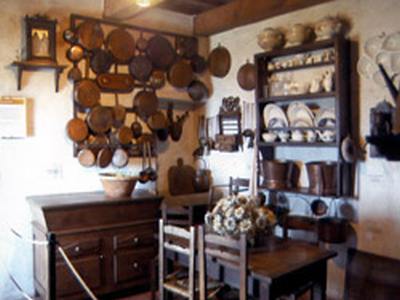 Between 1960 and 1970, Don Luigi Pellegrini picked material to present an exhibition that would witness through more than 4000 exhibits, the rural civilization almost completely disappeared.
The Museum of Ethnography Don Luigi Pellegrini is set in the medieval Hospital of San Pellegrino (XI – XII sec.), place of care and shelter for travelers and pilgrims who were over here Apennines. It became one of the most important collections of material culture of central Italy. The exposed material is an expression of traditional craftsmanship, rural and pastoral Valle Del Serchio and of the Apennines, and covers a time period from the beginning of the nineteenth century to today.
The exhibition is divided into 14 rooms organized according to different themes: the reconstruction of areas related to the rural house (kitchen, cellars, bedrooms), the commencement of production cycles (planning, spinning and weaving, dairy business).
Of particular interest for their uniqueness are some rooms such as the hall of spinning and weaving, with large handloom and tissue samples; the cobbler's shop with the reconstruction of the old work environment of a craftsman of the nearby village of Chiozza; Officina blacksmith; the carpenter's shop, with all the old tools. The preparation of wax candles from home lighting and for devotional use in churches is documented with the reconstruction of a workshop equipped with the equipment of tools and ingenious machines difficult to find.
Castiglione Garfagnana, loc. San Pellegrino in Alpe way Voltone, 14
Tel. 0583/649072
1 June / 30 September 9.30-13 and 14.30-19. It closed on Monday except in July and August.
October 1/31 March: weekdays 9-13, 9-12 and 14-17 holidays
1 April / 31 May 9 to 12 and 14-17. Closed on Mondays.
€ 1,55 full; € 0.52 reduced for schools.