Spinning, twisting, pedaling, weaving … let's know the ancient textile art that has made Lucca famous throughout medieval and renaissance Europe.
You can try Thursday, March 22 in the rustic weaving workshop "Maria Niemack" of the National Museum of Palazzo Mansi.
The meeting is "The rediscovery of ancient traditions: having fun working on the loom", in collaboration with the volunteers of the association Tessiture Lucchesi who will illustrate the materials, tools and activity of weaving, then guiding visitors to the practical use of several frames. It will be possible to choose the yarns to be woven to create a small piece that each participant can take away with him. The meetings will take place in two groups at 3:00 pm to 4:30 pm (3 participants) and 4.30 pm to 6 pm (3 participants).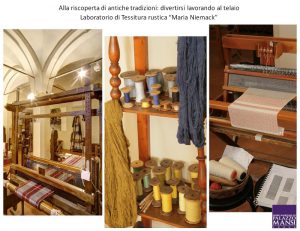 To participate, reservations must be made at the phone number of the Museum 0583 55570.
The initiative is included in the cost of the Museum ticket.
National Museum of Palazzo Mansi
Via Galli Tassi 43, Lucca
luccamuseinazionali.it
admission € 4.00 – reduced € 2.00 – free for persons under the age of 18.